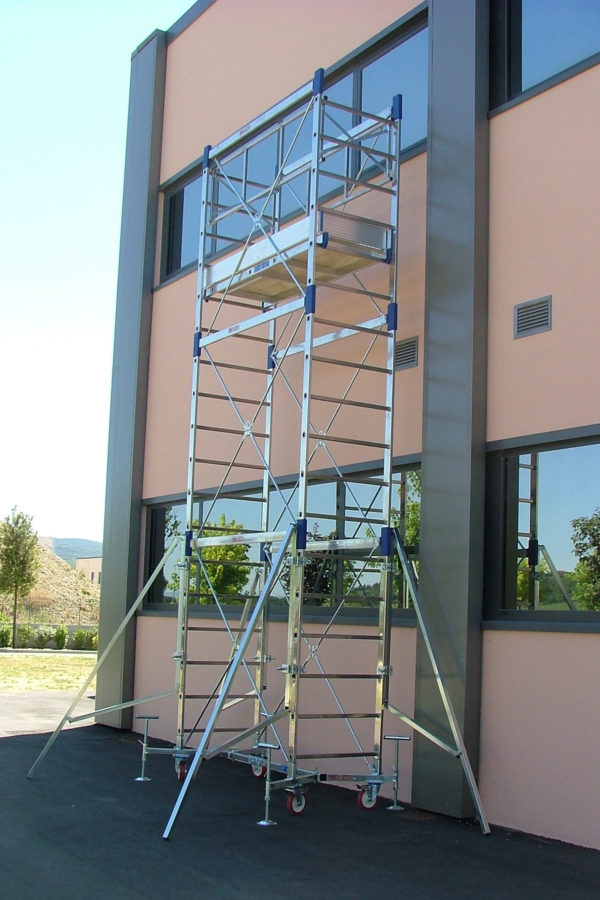 ULYSSE
in stock
---
Tower size: m 0,75 x 1,80
EN 1004 class "3" maximum load capacity kg 204
Can be assemble very quickly, thanks to blue nylon compound couplers, which allow easy coupling of the elements. The exclusive turnbuckle effectively prevents oscillations. Made of light, extremely resistant aluminum alloy, 73×25 mm rectangular section tubular elements. It consists of few components, light and easy to transport. Perfect size for working in limited spaces.
• H max dimensions m 0,75 x1,80
• New wheel EN 1004
• BASE: nr. 4 ø 150 mm wheels with brake, EN 1004 certified, nr. 4 adjustable telescopic feet with anti-unthreading device.
• TOWER: standard H 1.70 m, optional H 1.20 m. With screw-adjustable turnbuckle (EXCLUSIVE). Frames have rungs with 28 cm pitch, a 30×30 mm square section, with rounded edges and anti-slip surface. Great attention has been paid to the design of the upright-horizontal elements' coupling; the galvanized steel core is covered in nylon compound, to resist shock and torsion.
• WORK PLATFORMS: standard aluminum bearing structure.  The blue nylon compound couplers allow perfect securing of platform to scaffold structure. 
• EN 1004 STABILIZER BRACES: adjustable, each brace has two special anti-rotation hooks.
---
---